I've had a Treo Pro for a couple of weeks now so I thought I'd write a post about what I think of it.
If you're the sort who likes to skip to the end of stories, let me save you a little time. I'm loving it. It's awesome.
I'll try and explain why in this post.
Once upon a time…
My uses of mobiles are not typical, so to put this in context it's worth giving background on my needs.
What I need from a mobile (in rough order of importance):
Note-taking :: idea-storm for projects or capture notes in meetings, and be able to quickly search for and retrieve info
E-mail :: personal, work, SYA… a way to triage my various inboxes
Web browsing :: RSS feeds, searching for info, and twittering
MS Office :: MS Word documents and Excel spreadsheets – mainly in meetings, but also useful for working on SYA docs in spare time
To Do list :: GTD-type stuff – task management and project planning
Reading ebooks :: reading a page or two in snatches of time like the walk from my car to my desk, or whole chapters before bed
Sat Nav :: I often rely on TomTom Navigator to find my way
Camera :: taking pictures of whiteboards to capture meeting notes
SMS & IM :: instant messaging by SMS, MSN and Google Talk
ID store :: a safe place for passwords, alarm codes, & PIN numbers
Personal finance :: tracking our spending and planning for bills
There are other bits I do with my mobile (e.g. accessing my home server over SSH using PuTTY) but this list is what I need as a minimum.
Notice that 'making phone calls' isn't in that list. I make and receive so few calls that it's really not a priority for me.
So when HTC started pitching the Advantage as a "mobile office", I realised that it'd be ideal for me. I said at the time:
…if you want a mini-laptop with an always-on Internet connection and great battery life that lets you work far longer than a real laptop, then you want [this]…
And I've loved using it.
A change of direction

My last few mobile devices have been getting bigger and more laptop-like. So the Treo Pro is a change in direction for me.
It even looks like a phone 🙂
This change is possible because of the Redfly.
Instead of trying to find a single compromise device (too big to be the best phone, too small to be the best laptop) I can split this into two devices. The Redfly makes for a better mini-laptop than even the Advantage can be by itself, and the Treo Pro is a better phone.
There is no such thing as the perfect mobile – only one that is perfect for you
Okay, so this was a longer intro than I'd planned.
But the problem is that some people seem to find it hard to believe me when I say that the HTC Advantage was an awesome mobile for me. They see it's big, and scoff that it couldn't possibly be a good mobile.
The point that my needs might be different to theirs doesn't seem to sink in. The argument that it is better viewed as a small laptop rather than a large phone doesn't seem to work.
That's fine – I'm not looking to change anyone's minds.
But I mention it because any comments I make about the Treo Pro should be taken in this context.
When I say I think it's a fantastic device, I mean it's fantastic for me and my needs. And that I consider it as one part of a pair with the Redfly rather than a stand-alone device.
Finally… commenting about the Treo Pro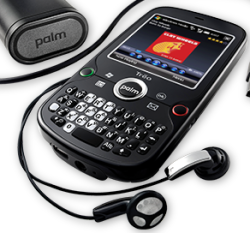 There is a lot packed into this little device.
It has WiFi and a 3G radio for fast mobile internet access.
It has GPS for sat nav.
Once loaded with my favourite apps, it can do everything on my list above and more.
And it has plenty of storage – with the exception of TomTom, I've installed everything to main memory and I've still got plenty of space left.
The battery life seems really good. Partly because it's got a big battery, but probably also partly because it only has small native screen to power (compared with the Advantage).
There is a Redfly driver available for it, and it does a great job driving the Redfly's laptop screen.
It does what I need, but why do I love it?
So it does the basics – it's capable of doing what I want. But what has won me over is how it does it.
Firstly, it's pretty nippy. It's processor isn't as fast as the HTC Advantage, but this is a good thing (a slower CPU means longer battery life!) but Palm seem good at optimising Windows Mobile to squeeze the best out of each CPU cycle. Check out this video of the Treo 800w – there is a neat comparison with the TTYN II at about two minutes in.
Secondly, it's tiny! Okay, so I've gotten used to having the 13oz HTC Advantage in my pocket, so my perspective is a little warped. But even so, at 4.49″ x 2.36″ x 0.53″, and weighing 4.7oz, it feels very small.
Thirdly, it has buttons! Lots of them. I like buttons. If you're in your calendar, and want to check your email, press the email button. There is no going back to a home page or programs menu in between – you can reach all the core apps with one (or for some, two) key presses. Okay, so it doesn't look as elegant as the sleek button-less iPhone, but it is quicker and I like it better this way. Screw prettiness 🙂
Finally, it's smart. There are so many lovely little touches. Loads. Listing them all would make an already long post into a tome. So let me give you a few examples.
Screen brightness – you keep the screen fairly dim to make the most out of the battery, then go outside into bright sunshine and the screen is unusable. Getting to the brightness setting in Windows Mobile needs about a half dozen careful screen taps. Doing that when you can't actually see the screen is a little challenging. The Treo Pro has a button on the front that takes you straight to the brightness setting. Clever.
A ringer switch on the top lets you completely mute the phone by sliding a button. It's such a nicer way of doing it than having go into a software setting.
WiFi – when I get home, I want to use my home wifi rather than the 3G. Telling Windows Mobile to do that needs another half dozen screen taps to navigate the Connections settings. The Treo Pro has a button on the side with a WiFi logo. Press that, and the WiFi is enabled and if it can see a network you've used before, it connects. It takes a second or two, and you don't need to stop what you're doing to navigate the Settings screens.
Contacts – when a phone call with someone not in your phone book ends, you are asked if you want to save the number. You can add it to an existing contact with a tap, or create a new contact and add a name.
You're probably not very impressed. None of these are earth-shattering features. None of these are amazing in isolation. The point is that there a ton of these neat touches.
There's a neat quote attributed to Buck Rodgers in "The IBM Way":
"…products of true enduring quality are not those that do 1 thing 1000% better but rather those products that do 1000 things 1% better…"
That's what I'm trying to say. There are so many ways in which they've made things a tiny bit better. The overall feeling is that this is a device made by people who have used mobiles, and know where the pain points are.
Nothing to impress your friends?
If someone shows you their iPhone, they'll often show you how the menus can be flicked up and down to scroll.
If someone shows you an HTC Touch Diamond, they'll often show you the Weather app which can have rain drops on the screen which get wiped away with an animated windscreen wiper.
The Treo Pro doesn't have anything like that. There isn't anything that I can show you that will make you go "ooh". Unless a wifi button is your sort of thing.
It's not neat, flashy or pretty. But it works, and it feels quicker to me than the flashy iPhone and it's clones.
The best analogy I can think of is comparing using a command line with using a graphical interface on a desktop computer. A GUI is prettier, more visually impressive, more intuitive and easier to learn than the equivalent command line commands. But once you've learnt them, the command line commands are more efficient.
That's how this feels. It might not always be intuitive or obvious. It might not have any impressive animations or visual touches. But if you want to get stuff done, it's just amazing.
Really must stop raving about a phone now

With the Redfly, it's a powerful mini-laptop.
By itself, it's a quick and efficient data-retrieval device – ideally suited to quickly looking up things even if using one-handed in a way that the HTC Advantage never could.
In case anyone thinks I'm a blind Palm fan-boy, I have a few niggles. Removing the battery case is a fecking nightmare – far harder than it needs to be. The phone is constantly covered in my fingerprints. The MicroUSB socket (while I entirely understand and support why they did it) means that all my spare Mini-USB cables and chargers are now useless. The keyboard isn't the best (although isn't as bad as many people seem to say – I've become quite quick at bashing out SMS messages).
But these are quibbles. I've long been a Treo fan – my last Treo was the Treo 650 and I loved it. And now I'm loving the latest addition to the Treo line.
Tags: iphone, palm, redfly, treo, treo pro, windows mobile, windowsmobile